Join the Office of Alumni Relations for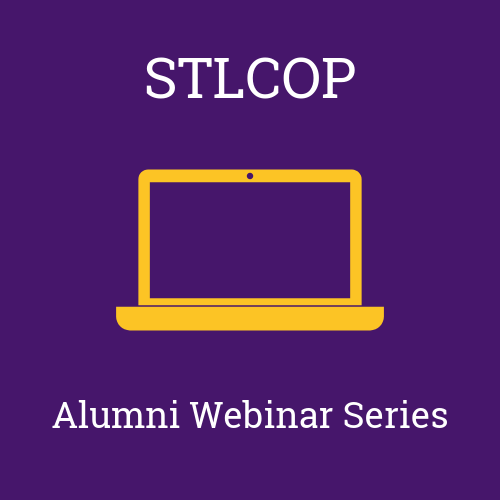 The 2019 Worldwide Asthmas Guidelines; A Brief Review
Join Sue Bollmeier, B.S. '99, Pharm.D. '01, professor of pharmacy practice, clinical pharmacist at South County Health Center, for a free, half-hour webinar reviewing this year's worldwide asthma guidelines, including changes to traditional treatment therapies, new agents for difficult asthma control. This program is accredited for 0.50 contact hour of knowledge-based CE credit.
The webinar will be presented live on Tuesday, September 24, 2019 at 12:00 PM (CDT).
CONTACT INFORMATION
Date: Sep 24, 2019 12:00 PM - 01:00 PM
Fee
$0.00
CE Hours
0.50
Registration closes on Oct 09, 2019 12:00 AM
Activity Type
Target Audience(s)
Accreditation(s)
St. Louis College of Pharmacy at the University of Health Sciences and Pharmacy in St. Louis is accredited by the Accreditation Council for Pharmacy Education as a provider of continuing pharmacy education. To learn more about the specific program information, including universal activity numbers (UAN's) and learning objectives, please expand the modules below. Following successful completion of an evaluation, CE credit

will be automatically reported to NABP through the CPE Monitor system, using the NABP ePID numbers and date of birth (MMDD) stored in participants' user profiles.

Follow this link to learn more about CPE Monitor and the credit reporting process »

Participants are responsible for ensuring receipt of credit; no credit can be corrected or awarded if more than 60 days have passed from the date of the event or if the home study is expired.

I

t is the policy of St. Louis College of Pharmacy at the University of Health Sciences and Pharmacy in St. Louis, to ensure balance, independence, objectivity and scientific rigor in all its educational programs. All faculty participating in this program are expected to disclose to the program audience any real or apparent conflicts of interest related to the content of the presentation.
Requirements for CE Credit
LIVE Webinar CE Instructions: To receive CE credit, all users must complete an online evaluation located on this page. Evaluations will be available for 14 days and will require a password to access. The password will be stated at the end of the session. To access the evaluations, users must be registered for this event and logged in to the website. Upon completion of the evaluation, a report will be automatically generated and sent to CPE Monitor using the NABP ePID and date of birth stored in the user's profile. Typically credit is reflected online in a participant's NABP e-profile within 48 hours of submission to CPE Monitor. No paper nor digital certificates of credit are provided.
Terms and Conditions: Participants are responsible for checking for receipt of credit in NABP and for ensuring accuracy of NABP ePID's and dates of birth within their profiles. It is strongly recommended that participants check their profile for any inaccuacies and update them if necessary PRIOR TO completing the evaluation. Consistent with ACPE's policy, St. Louis College of Pharmacy is unable to award any CE credit - for any reason - if more than 60 days have passed from the date of the event. Evaluations will close 10/8/2019 after which time participants will not be able to claim CE credit. If you miss an evaluation deadline, you may incur an additional fee for late submission. Please see our late credit submission policy on the FAQ page for additional details.
How to Register:
Click the + beside each module to learn more. When you are ready, check the box to the left of the module's title. Then, scroll down and select the green registration button. If you are not already logged in, you will be prompted to do so.
Registration closes on Oct 09, 2019 at 12:00 AM
The 2019 Worldwide Asthma Guidelines; A Brief Review is accredited as a knowledge-based continuing pharmacy education activity.
Note: This page should only be used to claim CE credit. Those who wish to attend the live webinar should participate using GoToWebinar at the following link:
https://register.gotowebinar.com/register/5987764804185657611
All CE credit can be claimed on this page at the conclusion of the webinar by completing the online evaluation.
Credit claimed on this page will be reconciled with attendance records from the webinar prior to processing credit.
Objectives
Review the updated 2019 worldwide Global Initiative for Asthma (GINA) guidelines.
Identify which patients are candidates for PRN ICS/LABA therapy.
Briefly review available and emerging targeted therapies for severe asthma.
Speaker(s)/Author(s)
Suzanne G. Bollmeier, Pharm.D., FCCP, BCPS, AE-C
Clinical Pharmacist, South County Health Center & Professor, Pharmacy Practice, St. Louis College of Pharmacy
Activity Number
0033-0000-19-084-L01-P
Date: 09/24/19
Time: 12:00 PM - 12:30 PM
CE Hours
0.50