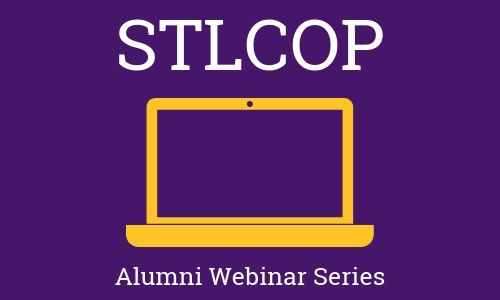 HIV Drug Therapy in 2019
This webinar was presented live on April 9, 2019 and is part of the St. Louis College of Pharmacy Alumni Webinar Series. This CPE program is available as a home study recording of that live session. Join Ali Wilson, Pharm.D., associate professor of pharmacy practice and clinical pharmacy specialist as she reviews current and updated HIV drug therapies. All are welcome to participate. Pharmacists can earn up to 0.5 contact hours of knowledge-based CPE credit for participation in this activity.
NOTE: If you claimed credit for the live presentation of this webinar on April 9, 2019, you are NOT eligible to receive CPE credit for this home study.
This activity is best viewed with uninterrupted high-speed internet access and an updated internet browser. Speakers or headphones are required for audio. The video will be viewed embedded within the module. To view, make sure your registration is complete - apply a coupon code or payment as applicable. Then, make sure you are logged in before returning to this page. Click the + to expand the module. The embedded video will load there along with a PDF handout. To ensure best view of the handout, please ensure Adobe Acrobat Reader is up-to-date on your computer.
This activity is best viewed on a laptop or desktop computer. Mobile compatibility is not guaranteed.
St. Louis College of Pharmacy alumni can complete this home study for free. Contact alumni@stlcop.edu for your coupon code!
Fee
$9.00
CE Hours
0.50
Activity Type
Target Audience(s)
Accreditation(s)
St. Louis College of Pharmacy is accredited by the Accreditation Council for Pharmacy Education as a provider of continuing pharmacy education. To learn more about the specific program information, including universal activity numbers (UAN's) and learning objectives, please expand the modules below. Following successful completion of an evaluation, CE credit

will be automatically reported to NABP through the CPE Monitor system, using the NABP ePID numbers and date of birth (MMDD) stored in participants' user profiles.

Follow this link to learn more about CPE Monitor and the credit reporting process »

Participants are responsible for insuring receipt of credit; no credit can be corrected or awarded if more than 60 days have passed from the date of the event or if the home study is expired.

I

t is the policy of St. Louis College of Pharmacy, to ensure balance, independence, objectivity and scientific rigor in all its educational programs. All faculty participating in this program are expected to disclose to the program audience any real or apparent conflicts of interest related to the content of the presentation.
Requirements for CE Credit
INSTRUCTIONS FOR REGISTRATION AND CLAIMING CE CREDIT:
(1) Visit this page to register. You will be asked to log in. If you do not have an account, please create one. If you are unsure, use the password reset tool - if you do not have an account associated with that email address, you will receive an error.
Note: To better protect your privacy, this system is independent from our alumni system.
(2) Return to this event page. If you are not automatically redirected, click the "My account" tab above to view your current enrollments.
(3) Watch the video. To do so, make sure you are LOGGED IN and then click the + to expand the module below. Handouts will also be found here as download links.
(4) Complete the post test by clicking the green button. Participants must pass with 4/5 questions correct and may take the test multiple times, if necessary.
(5) When completed, the post-test button will now read "Complete Evaluation." Click this button beside the session you attended.
(6) Complete the evaluation - we value your feedback! All responses are stored anonymously.
Evaluations remain open until the expiration date noted on this page,after which time you will no longer be able to claim credit.
(7) Click to submit your evaluation. As soon as you submit, a report will be automatically generated using the NABP ePID and DOB stored in your CE profile and sent to CPE Monitor. Please allow up to 48 hours to view your credit in your online NABP profile.
(8) If desired, you may print a statement of attendance from the "View/Print Certificate" tab above. This is only a statement of attendance and does not replace credit reporting through CPE Monitor.
Objectives
Compare and contrast current options for the treatment of HIV.
Speaker(s)/Author(s)
Alexandria Garavaglia Wilson, Pharm.D., BCPS (AQ-ID)
Associate Professor, Pharmacy Practice, St. Louis College of Pharmacy
Activity Number
0033-0000-19-002-H02-P
Release Date:
Feb 12, 2019
Credit Expiration Date:
Oct 16, 2019
CE Hours
0.50