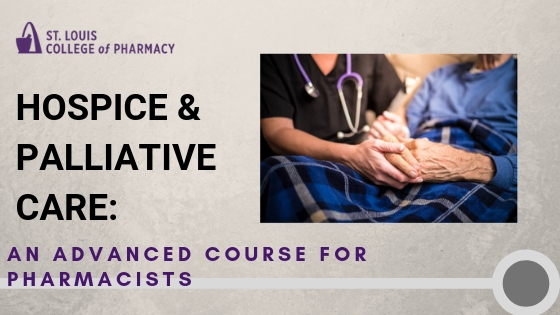 This online CE program is designed to enhance pharmacist knowledge related to end-of-life issues and the care of patients in hospice. These 6 modules are presented by nationally-recognized experts in the field of hospice and palliative care. Participants will build upon foundational knowledge and enhance their skills related to prevalent diseases and disorders present at the end of life, such as gastrointestinal issues, psychiatric needs, and hematology.
Pharmacists who wish to complete the advanced course should be prepared with previous experience in hospice and palliative care and/or have completed our basic course.
Pharmacists can complete this course on-demand, from the comfort of home. All modules are delivered fully online, for your convenience!
---
For best results, participants should ensure they have the latest edition of Adobe Reader installed and have uninterrupted access to high speed internet. Speakers or headphones are required for the videos. This program is best viewed on a desktop or laptop computer; mobile compatibility is not guaranteed. All handouts are provided electronically as PDF download links and will be available on this page; they will only become visible following successful registration and payment and participants must be logged in to view them.
6 embedded videos (estimated time: 6.0 hours)

1 post test (44 questions, estimated time: 1.0 hour)

Handout download links (available after registration and login at the bottom of the page)
Release Date: July 22, 2019
Expiration Date: July 22, 2022
UAN: 0033-0000-19-059-H01-P
Fee
$275.00
CE Hours
7.00
Activity Type
Target Audience(s)
Accreditation(s)
St. Louis College of Pharmacy is accredited by the Accreditation Council for Pharmacy Education as a provider of continuing pharmacy education. To learn more about the specific program information, including universal activity numbers (UAN's) and learning objectives, please expand the modules below. Following successful completion of an evaluation, CE credit

will be automatically reported to NABP through the CPE Monitor system, using the NABP ePID numbers and date of birth (MMDD) stored in participants' user profiles.

Follow this link to learn more about CPE Monitor and the credit reporting process »

Participants are responsible for insuring receipt of credit; no credit can be corrected or awarded if more than 60 days have passed from the date of the event or if the home study is expired.

I

t is the policy of St. Louis College of Pharmacy, to ensure balance, independence, objectivity and scientific rigor in all its educational programs. All faculty participating in this program are expected to disclose to the program audience any real or apparent conflicts of interest related to the content of the presentation.
Requirements for CE Credit
To successfully complete this CPE activity, all pharmacists must:
Register and complete payment.

Log in and navigate to this page. If you are not automatically re-directed, visit the home page, log in, and click "My Account" to view current active registrations.

Watch all 6 videos - they will appear on this page after payment has been verified. You MUST be logged in with a fully registered account.

Complete the post test (click the green button to complete) and pass with a minimum score of 80%. You may take the test as many times as necessary.
To claim continuing pharmacy education (CPE) credit, and report to CPE Monitor, pharmacists should do the following AFTER all required activities are completed:
Ensure the post test is completed and passed with at least 80% correct.

Complete the evaluation by clicking the green evaluation button. You will not be able to click this button until the post-test is completed and passed. You must also be logged in.

Complete the evaluation. All responses are stored anonymously.
Upon successful completion of an evaluation, a report will be generated using the NABP ePID and date of birth that are connected with your profile. This report will be automatically submitted to CPE Monitor. Please allow up to 48 hours for CPE Monitor to sync with NABP. Participants are responsible for ensuring accurate credit reporting. If a participant believes an error has been made, they should contact our office as soon as possible to resolve the issue. Credit cannot be awarded or corrected after the expiration date on each module has passed.
Objectives
Identify key symptoms of diagnoses common to patients in hospice and palliative care.
Recommend treatment of various symptoms including: nausea / vomiting, constipation, malignant bowel obstruction, and diarrhea at the end of life.
Recommend treatment of various symptoms including: hiccups, anorexia/cachexia, dysphagia, dyspepsia, end-stage renal disease, uremia, mucositis, oral care, and related symptoms at the end of life.
Discuss hospice eligibility criteria for heart failure and COPD.
Identify pharmacologic and non-pharmacologic strategies to maximize symptom management in a patient with end-stage heart failure or COPD.
Assess a treatment plan for distressing end of life care symptoms associated with dementia, Parkinson's disease, and stroke.
Recommend an appropriate treatment regimen for psychiatric symptoms, such as anxiety, depression, insomnia, and delirium.
Recommend an appropriate treatment regimen for psychiatric symptoms, such as anxiety, depression, insomnia, and delirium.
Speaker(s)/Author(s)
Alexandra McPherson, Pharm.D., MPH


Brief Bio : Dr. Alexandra McPherson recently completed her PGY-2 Pain and Palliative Care Residency at the University of Maryland School of Pharmacy, and accepted a position with the inpatient palliative care consult service at MedStar Washington Hospital Center in Washington, D.C. Dr. McPherson has published and presented nationally on topics pertaining to pain management and palliative care, and is an active member of AAHPM, SPCP, MPhA and MSHP. Her academic interests include early integration of palliative care in advanced illness, navigating transitions of care at the end-of-life, community-based palliative care, and palliative care in developing countries. Her newest interest involves the integration of narrative medicine practices as a tool for reducing burnout and improving resiliency among palliative care providers.
Justin Garret Kullgren, Pharm.D.


Brief Bio : As a Clinical Pharmacy Specialist at The Ohio State University Wexner Medical Center James Cancer Hospital , Justin consults with nurses, physicians, and other palliative interdisciplinary team members on pain and symptom management, prevention and treatment of adverse drug events, medication dosing, and monitoring and disease state management. Dr. Kullgren has substantial experience developing curriculum and instructing on a variety of topics and to a variety of audiences.  Justin teaches in academia and has provided numerous education presentations to nurses, nurse practitioners, oncology trainees, pharmacists, and physicians.
Stephanie Abel, Pharm.D., BCPS


Brief Bio : Stephanie Abel is a Clinical Pharmacy Specialist in Palliative Medicine at The Ohio State University Wexner Medical Center – James Cancer Hospital. She rotates between the inpatient palliative medicine consult service and the benign hematology service. She received her PharmD from Creighton University in Omaha, Nebraska after which she completed a PGY-1 in Pharmacy Practice at The Medical University of South Carolina in Charleston, SC and a PGY-2 in Pain Management and Palliative Care at The Johns Hopkins Hospital in Baltimore, MD.
Activity Number
0033-0000-19-059-H01-P
Release Date:
Jul 22, 2019
Credit Expiration Date:
Jul 22, 2022
CE Hours
7.00