To account for the impending snow storm, the schedule has changed. Eight residents in two time blocks will present today, with the remaining residents to be rescheduled (date TBD). The updated schedule is below. For those who requested parking, please use your original parking pass.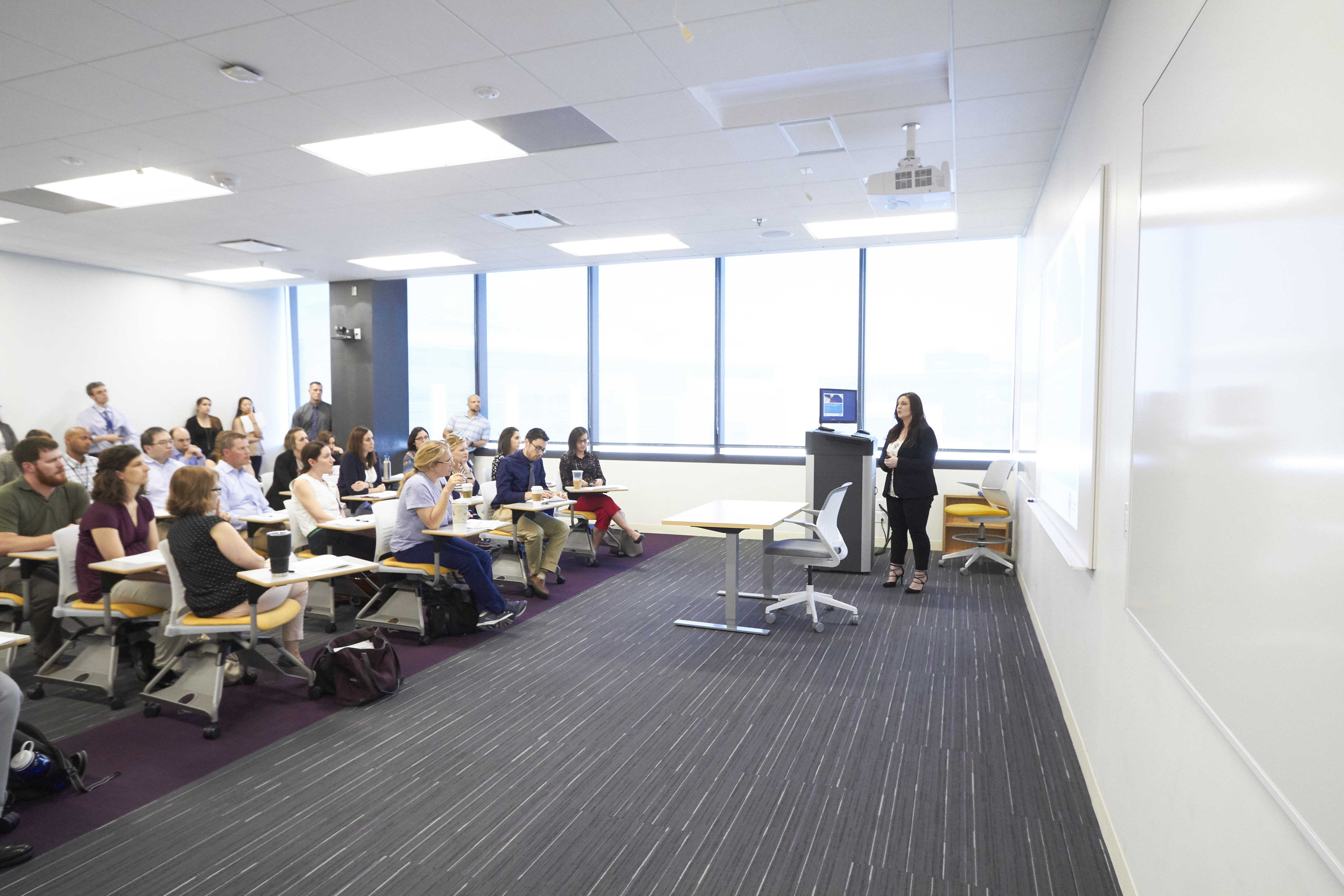 JANURY 2019 RESIDENT SEMINAR
ARB 304

ARB 305

ARB 354

ARB 355

BLOCK 1

12:00 – 12:45 pm

Reinitiation of Anticoagulation After a Major Bleeding Event

Lindsey Eble, Pharm.D.

Antimicrobial therapy in cystic fibrosis

Rosemary Emelue, Pharm.D.

St. Louis Children's Hospital

Revisiting Beta Lactam Allergies

Alex Tryson, Pharm.D.

St. Louis College of Pharmacy/Mercy Hospital St. Louis

Getting Excited About Ketamine: The Role of IM Ketamine in Excited Delirium Syndrome

Tiffany Hopkins, Pharm.D.

BLOCK 2

12:45 – 1:30

Current Recommendations for the Use of Antiplatelet Therapy in Secondary Prevention of Non-Cardioembolic

Ischemic Stroke

Sarah Tortora, Pharm.D.

Evaluation of Intratracheal Budesonide-Surfactant for Prevention of Bronchopulmonary Dysplasia

Brianna Henson, Pharm.D.

SSM Health Cardinal Glennon Children's Hospital

Voriconazole-associated Squamous Cell Carcinoma Post-lung Transplant

Alicia Yn, Pharm.D.

Escalated Antiarrhythmic Therapy or Ablation for Recurrent Ventricular Tachycardia

Nicholas Greenwald, Pharm.D.

SSM Health Saint Louis University Hospital
** Up to 0.75 hours of CE credit are available for each activity, for a maximum possible 1.5 hours if participants attend activities in all time blocks.**
*
All parking spaces are filled. No more requests for parking can be accepted at this time.
*
---
REGISTRATION & PARKING INFORMATION
This event has mutliple concurrent sessions. To register, click the green button below. You will be asked to log in. You will be registered for the whole day - please complete the evaluations for only those sessions that you attend. Unattended sessions will be removed from your account, based on sign-in records, within a week following Seminar.
Registration is free, but is required in advance.

Due to limited space, only those participants who register before 12:00 PM on Tuesday, January 8, 2019 will be able to request parking access on campus.
To request parking, please first register for your desired sessions. Then, complete the parking questionnaire using the link above, or by clicking here », to complete your parking request. If you do not request parking on our campus, or if you do not submit your requst by the deadline, you will be re-directed upon arrival. A temporary parking pass will be emailed to the address you provide in the separate parking request form on the day prior to the event.
HANDOUTS
Paper copies of handouts will be provided in each room as well as electronically on this website. Copies of PowerPoint slides are not provided. To access the handouts electronically, participants should ensure they are logged in before accessing this event. Click the + symbol beside the session, which will expand the module. A clickable text link to download the handout as a PDF file will be present.
ATTENDANCE
All participants will be required to sign in on the paper sheets, located within each room. Paper sign-in sheets will be reconciled against electronic credit reporting on this website.
CPE CREDIT
Participants must claim all CPE credit electronically. Participants may claim no more than one 45-minute session for each time block. Additional instructions can be downloaded above or read below.
SPECIAL ACCOMMODATIONS
If you require special accommodations, please notify us in advance. Every effort will be made to make accommodations where necessary.
Date: Jan 11, 2019 01:00 PM - 03:40 PM
Location: Academic & Research Building
Fee
$0.00
CE Hours
6.00
Registration closes on Feb 01, 2019 12:00 AM
Activity Type
Target Audience(s)
Requirements for CE Credit
In order to receive CPE Credit, participants are required to submit an evaluation for the session.
Evaluations will be housed online at this web address for 14 days, after which time they will be closed.
Immediately upon submission of the online evaluation, a report will be automatically generated and submitted to CPE Monitor using the NABP ePID and DOB stored in the participant's account profile.
Participants should allow up to 48 hours for the credit to sync with their online NABP e-Profiles. Paper statements of credit are not provided.
Only ONE session may be claimed per each time block - if multiple concurrent sessions are claimed, participants forfeit CE credit. All CE claims will be cross-checked against the sign-in sheets.
If you experience difficulty, please contact our office so that we may assist you. We are happy to help!
Participants are responsible for ensuring accuracy of credit reporting and receipt of credit. It is recommended that participants log on and reivew the information under "my account" prior to submitting the evaluation. NABP ePID and date of birth must be accurate for credit reporting to occur. Evaluations cannot be reopened after 14 days.
Participants are encouraged to check their NABP eProfiles for receipt of credit within one week of submitting their evaluation(s). If a participant notices an error in credit on their NABP e-profile, they are encouraged to contact our office as soon as possible. To best comply with ACPE's CE credit reporting policy, St. Louis College of Pharmacy is unable, for any reason, to award or correct CE credit if more than 60 days have passed from the event.
---
ALL PARKING SPACES ARE FILLED. NO MORE REQUESTS FOR PARKING CAN BE ACCEPTED AT THIS TIME.
---
** Parking must be requested no later than Tuesday, January 8, 2019 at 12:00 PM (CST). **
You should not request parking if you already have a STLCOP parking hang tag, plan to carpool and someone else is driving, or have an alternate mode of transportation.
Registration closes on Feb 01, 2019 at 12:00 AM