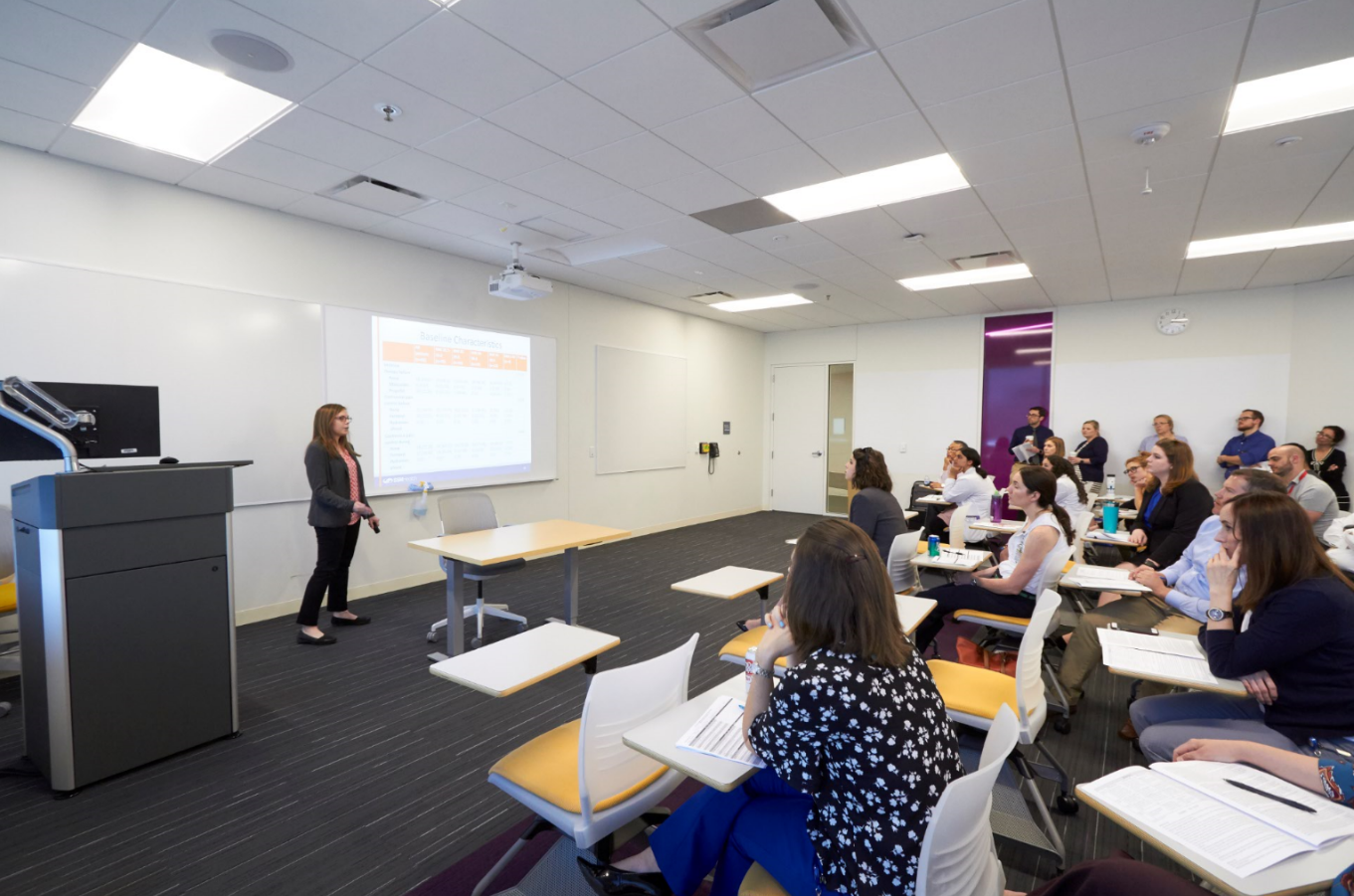 NOVEMBER 2018 RESIDENT SEMINAR
Please join us for the first in our Resident Seminar series on Friday, November 16, 2018 at 1:00 PM. Presented by PGY1 and PGY2 residents from within the St. Louis area, this series will focus on current therapeutic topics in the practice of pharmacy. All sessions will be held in the classrooms in the Academic & Research Building (ARB) on the third floor. For a map of the campus and directions, please click here »
ARB 304

ARB 305

ARB 336

ARB 354

ARB 355

BLOCK 1

1:00 – 1:45

Antistaphylococcal Penicillins or Cephalosporins for the treatment of MSSA Bacteremias

Daniel Pearson, Pharm.D.

Improving COPD Outcomes with Pharmacy Services in Ambulatory Care

Della Mitchell, Pharm.D.

Weighing the Options: Direct Oral Anticoagulant Use in Extreme Obesity

Amanda Bultas, Pharm.D.

Management of Heparin-Induced Thrombocytopenia: Will DOACs Be the Next Big Hit?

Emily Shor, Pharm.D.

An evaluation of the use of thrombolytics in wake-up stroke

Ijeoma Onyema, Pharm.D.

1:45 – 1:55 pm

Travel Time to accommodate movement between rooms

BLOCK 2

1:55 – 2:40

Extended Infusion Beta-Lactams in Critically Ill Patients

Alaina DeKerlegand, Pharm.D.

Goal heart rate versus target beta blocker dose in chronic systolic heart failure

Paige Stipanovich, Pharm.D.

Revisiting the cardiovascular role of aldosterone antagonists

Darcy Holzum, Pharm.D.

Fixed Versus Variable Dosing of Prothrombin Complex Concentrate

Lauren Jacobsmeyer, Pharm.D.

Perioperative Anticoagulation Management of Warfarin for Atrial Fibrillation: To Bridge or Not to Bridge

Rob Yang, Pharm.D.
** Up to 0.75 hours of CE credit are available for each activity, for a maximum possible 1.50 hours if participants attend activities in both time blocks.**
---
REGISTRATION INFORMATION
This event has mutliple concurrent sessions. To register, please select no more than ONE session per time block below. Registration is free, but is required in advance.

Due to limited space, only those participants who register before 12:00 PM on Tuesday, November 13, 2018 will be able to request parking access on campus.

To request parking, pleaes indicate that you would like a space in the registration questionnaire by the deadline above. If you do not request parking on our campus, or if you do not submit your requst by the deadline, you will be re-directed upon arrival.
HANDOUTS
Paper copies of handouts will be provided in each room as well as electronically on this website. Copies of PowerPoint slides are not provided. To access the handouts electronically, participants should ensure they are logged in before accessing this event. Click the + symbol beside the session, which will expand the module. A clickable text link to download the handout as a PDF file will be present.
ATTENDANCE
All participants will be required to sign in on the paper sheets, located within each room. Paper sign-in sheets will be reconciled against electronic credit reporting on this website.
CPE CREDIT
Participants must claim all CPE credit electronically. Participants may claim no more than one 45-minute session for each time block.
SPECIAL ACCOMMODATIONS
If you require special accommodations, please notify us in advance. Every effort will be made to make accommodations where necessary.
Date: Nov 16, 2018 01:00 PM - 02:40 PM
Location: Academic & Research Building
CE Hours
7.75
Registration closes on Dec 01, 2018 12:00 AM
Activity Type
Target Audience(s)
Requirements for CE Credit
In order to receive CPE Credit, participants are required to submit an evaluation for the session. Evaluations will be housed online at this web address for 14 days, after which time they will be closed.Immediately upon submission of the online evaluation, a report will be automatically generated and submitted to CPE Monitor using the NABP ePID and DOB stored in the participant's account profile. Participants should allow up to 48 hours for the credit to sync with their online NABP e-Profiles. Paper statements of credit are not provided. Only ONE session may be claimed per each time block - if multiple concurrent sessions are claimed, participants forfeit CPE credit for the activity.
Participants are responsible for ensuring accuracy of credit reporting and receipt of credit. It is recommended that participants log on and reivew the information under "my account" prior to submitting the evaluation. NABP ePID and date of birth must be accurate for credit reporting to occur. Evaluations cannot be reopened after 14 days.
Participants are encouraged to check their NABP eProfiles for receipt of credit within one week of submitting their evaluation(s). If a participant notices an error in credit on their NABP e-profile, they are encouraged to contact our office as soon as possible. To best comply with ACPE's CE credit reporting policy, St. Louis College of Pharmacy is unable, for any reason, to award or correct CE credit if more than 60 days have passed from the event.
REGISTRATION INSTRUCTIONS: Topics in concurrent time blocks are labeled as B1 and B2 to designate Blocks 1 and 2, respectively. To register, check the open box for a session for each of B1, and B2. As a reminder, you may only claim credit for one session in each time block. When you are ready, click the green "Register Now" button at the bottom of the page to register for those sessions you have checked. If you are not already logged in, you will be asked to do so.
Pharmacy Students should NOT use this page to register. Students should CLICK HERE » to register.
Registration closes on Dec 01, 2018 at 12:00 AM