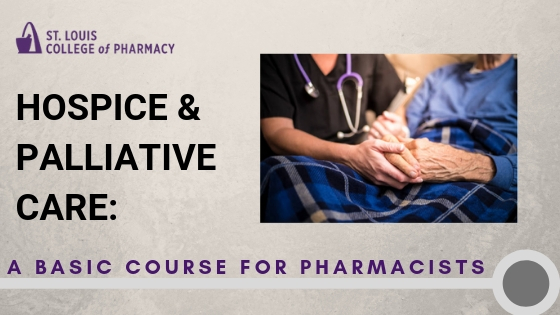 This online CE program is designed to introduce pharmacists to end-of-life issues and the care of patients in hospice. The 10 modules are presented by nationally-recognized experts in the field of hospice and palliative care. The participant will be introduced to many topics important in the development and maintenance of a hospice practice, working with and communicating within a hospice team, and managing common challenges in pain management. Completion of this package prepares individuals for additional patient care topics in the advanced course (separate registration required).
Pharmacists can complete this course on-demand, from the comfort of home. All modules are delivered fully online, for your convenience!
For additional information regarding this program, including learning objectives and speakers, expand the module below by clicking the + button.
For best results, participants should ensure they have the latest edition of Adobe Reader installed and have uninterrupted access to high speed internet. Speakers or headphones are required for the videos. This program is best viewed on a desktop or laptop computer; mobile compatibility is not guaranteed. All handouts are provided electronically as PDF download links and will be available on this page; they will only become visible following successful registration and payment and participants must be logged in to view them.
10 embedded videos (estimated time: 9.25 hours)

1 post test (88 questions, estimated time: 1.75 hours)

Handout download links (available after registration and login at the bottom of the page)
Release Date: July 22, 2019
Expiration Date: July 22, 2022
UAN: 0033-0000-19-058-H01-P
Fee
$475.00
CE Hours
11.00
Activity Type
Target Audience(s)
Accreditation(s)
St. Louis College of Pharmacy is accredited by the Accreditation Council for Pharmacy Education as a provider of continuing pharmacy education. To learn more about the specific program information, including universal activity numbers (UAN's) and learning objectives, please expand the modules below. Following successful completion of an evaluation, CE credit

will be automatically reported to NABP through the CPE Monitor system, using the NABP ePID numbers and date of birth (MMDD) stored in participants' user profiles.

Follow this link to learn more about CPE Monitor and the credit reporting process »

Participants are responsible for insuring receipt of credit; no credit can be corrected or awarded if more than 60 days have passed from the date of the event or if the home study is expired.

I

t is the policy of St. Louis College of Pharmacy, to ensure balance, independence, objectivity and scientific rigor in all its educational programs. All faculty participating in this program are expected to disclose to the program audience any real or apparent conflicts of interest related to the content of the presentation.
Requirements for CE Credit
To successfully complete this CPE activity, all pharmacists must:
Register and complete payment.

Log in and navigate to this page. If you are not automatically re-directed, visit the home page, log in, and click "My Account" to view current active registrations.

Watch all 10 videos - they will appear on this page after payment has been verified. You MUST be logged in with a fully registered account.

Complete the post test (click the green button to complete) and pass with a minimum score of 80%. You may take the test as many times as necessary.
To claim continuing pharmacy education (CPE) credit, and report to CPE Monitor, pharmacists should do the following AFTER all required activities are completed:
Ensure the post test is completed and passed with at least 80% correct.

Complete the evaluation by clicking the green evaluation button. You will not be able to click this button until the post-test is completed and passed. You must also be logged in.

Complete the evaluation. All responses are stored anonymously.
Upon successful completion of an evaluation, a report will be generated using the NABP ePID and date of birth that are connected with your profile. This report will be automatically submitted to CPE Monitor. Please allow up to 48 hours for CPE Monitor to sync with NABP. Participants are responsible for ensuring accurate credit reporting. If a participant believes an error has been made, they should contact our office as soon as possible to resolve the issue. Credit cannot be awarded or corrected after the expiration date on each module has passed.
Objectives
Discuss the culture and history of hospice.
Define hospice and palliative care, with specific attention to areas of overlap and difference.
Identify common admission diagnoses and demographics for patients receiving palliative care or hospice services.
Describe the interdisciplinary team for both hospice and palliative care.
Describe roles for pharmacists in hospice care including direct patient care, medication order review, and reconciliation, education and medication counseling and administrative roles.
Describe Medicare guidelines for the most common admitting terminal diagnoses to hospice care.
Make recommendations to optimize the medication regimen to manage pain and non-pain symptoms, optimal dosage formations, and discontinue medically futile medications.
Describe best practices in transitions in care from an acute care facility to home-based hospice in terms of medication management.
Describe risks and benefits of commonly used administration routes at the end of life.
Differentiate pharmacokinetic and pharmacodynamic differences in medications administered via alternative administration modalities.
Discuss the benefits of deprescribing in hospice.
Describe the ethical issues related to the process of health care decision making and informed consent (e.g., MOLST/POLST forms, advance directives, code status orders, health care proxy decision making).
Speaker(s)/Author(s)
Amanda Daniels, Pharm.D.
Pain Management & Palliative Care Clinical Pharmacy Specialist, HSHS St. Elizabeth's Hospital


Brief Bio : Amanda Daniels graduated from Southern Illinois University Edwardsville School of Pharmacy in 2016. She then went on to complete a PGY1 Pharmacy Practice Residency at HSHS St. Elizabeth's Hospital and a PGY2 Pain Management and Palliative Care Residency with Hospice of Southern Illinois. Upon completion of residency, she will be working as a pain management and palliative care clinical pharmacy specialist at HSHS St. Elizabeth's Hospital.
Ashley Merritt, Pharm.D., AE-C
Clinical Pharmacy Specialist, Robert Silvey VA Clinic


Brief Bio : Ashley Merritt Pharm.D., AE-C currently serves as a Clinical Pharmacy Specialist with the Robert Silvey VA Clinic in Farmington, Missouri. She grew up on a small horse & cattle ranch in the area, returning home to expand ambulatory clinical pharmacy services.
Chris Herndon, PharmD, CPE, FASHP


Brief Bio : Chris Herndon, PharmD, CPE, FASHP is a Professor with the Southern Illinois University Edwardsville (SIUE) School of Pharmacy. Currently, Dr. Herndon sees chronic pain patients in a multidisciplinary setting within a family medicine residency clinic. Dr. Herndon's scholarship interest focuses primarily on pain and palliative care education and he is the Principal Investigator for the National Institutes of Health Center of Excellence in Pain Education at SIUE. Dr. Herndon is the president-elect for the Society of Palliative Care Pharmacists. He is the 2006 recipient of the "Pain Champion Award" from the Alliance of State Pain Initiatives, the 2012 recipient of the "Academic Pain Educator of the Year Award" from the American Society of Pain Educators, the 2016 "Pharmacist of the Year" from the Illinois Pharmacist's Association, and the 2018 recipient of the Distinguished Service Award from the American Pain Society.
Kathryn Walker, Pharm.D., BCPS, CPE
Senior Clinical and Scientific Director for Palliative Care , MedStar Health System


Brief Bio : Kathryn Anne Walker, Pharm.D., BCPS, CPE is the Senior Clinical and Scientific Director for Palliative Care for MedStar Health System. She is charged with developing clinical outcomes, research and education along with developing the palliative clinical services at the ten hospitals and in the outpatient community of MedStar Health. She also serves as an Associate Professor at the University of Maryland School of Pharmacy where she contributes to both didactic and experiential pharmacy education. Dr. Walker's passion for safe and appropriate medication use includes a major focus on relief of suffering and drives her efforts in clinical practice, research and education.
Mary Lynn McPherson, Pharm.D., MA, MDE, BCPS


Brief Bio : Dr. Mary Lynn McPherson is a Professor and Executive Director, Advanced Post-Graduate Education in Palliative Care at the University of Maryland School of Pharmacy. She is also the Program Director of the Online Master of Science and Graduate Certificate Program in Palliative Care offered by the University of Maryland, Baltimore. Dr. McPherson has practiced in hospice and palliative care her entire career, publishes extensively in this area, and is a frequent presenter at the local, state, national and international level on appropriate medication use in serious illness.
Activity Number
0033-0000-19-058-H01-P
Release Date:
Jul 22, 2019
Credit Expiration Date:
Jul 22, 2022
CE Hours
11.00